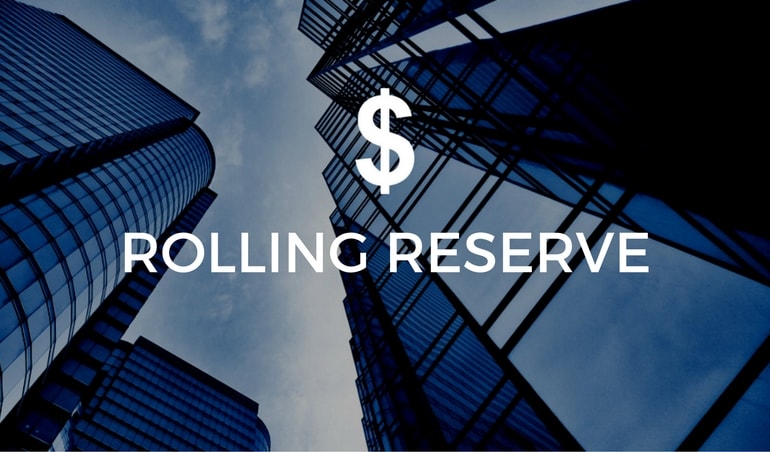 Understanding A Rolling Reserve Requirement


A rolling reserve is a risk management strategy employed by credit card processors, merchant account providers or acquiring banks to minimize the risk profile of high risk merchant account holders. This policy involves withholding a certain percentage (usually 5-10%) of gross sales from the merchant for a specific period of time in a non-interest bearing account to act as a "buffer" for potential chargebacks.


Essentially, your merchant account will be set up to have a rolling reserve for as long as you are in business, unless you decide to change your payment processor. For acquiring banks and processors, the goal is to ensure there is a strong financial shield that helps to minimize loses.


Rolling reserve is usually imposed on merchant account holders at the beginning of the account activity. While it will most likely affect transactions made via Visa and MasterCard, you may need to create a rolling reserve account if other credit card companies, through some special underwriting, specifically require such a reserve. More information on understanding rolling reserve requirements.


Factors That Could Require a Rolling Reserve Account


Your business may be deemed high risk and in need of a rolling reserve account if it has one or all of the following:
* Large average ticket sizes
* High processing volume
* History of excessive chargebacks
* Poor personal credit
* Risky business models such as tobacco, vape, nutraceutical, travel industry and subscription services
Here's a common scenario, let's say your travel agency has a website designed to meet the increasing travel needs of people and you currently have an active travel merchant account. If your customers are able to book their trips to different destinations around the world, as well as enjoy amazing accommodation facilities wherever they travel to. They love the convenience of your service, and you are making good profit. You are literally living the dream. However, your bank is also on top of the world because they know that a travel business typically has a high probability of fraud, chargebacks and other disputes.


For instance, a customer books a flight weeks or even months ahead of the expected date of departure. As a result of unexpected and uncontrollable events such as natural calamities, personal emergencies or simply a change of plans, the customer may decide to cancel the trip. Due to the customer protection policy in place, all the customer needs to do is file a chargeback, stating that they are not satisfied. In most cases, the customer is right. Yes, 'customer is king'.


To protect itself against the risk of losing money, the bank imposes a 10% rolling reserve on your merchant account. 10% of your sales will be held by your payment processor, and you would have no access to this money until the closure of your account – unless your bank gives you a specific date.


For processors, the general rule is that the riskier a business is, the higher the rolling reserve. It is important that they guarantee a certain amount of the total volume processed in order to protect against any risks of disputes.


How Rolling Reserve Affects Your Business


A rolling reserve can affect your business and cash flow, making it difficult for you to remain competitive in your industry. It may also prevent you from using your net profit and available funds for marketing purposes. This can severely stunt the growth of your company.


Truth is, as a business looking to stay competitive, you can barely survive without accepting credit card payments. So, before making the decision to set up a high risk business, it is important that you are prepared for the costs, which may include a rolling reserve account. Still, if you think your business cannot afford to wait for the period determined by the bank before having access to the percentage withheld, you must ensure you do everything to avoid merchant accounts attached to rolling reserves.


Getting A Merchant Account With NO RESERVE !!!!!


If you are applying for a new merchant account, your processor may deem it necessary to require a rolling reserve account to be a contingency of approval. Again, this requirement is to protect the processor from potential losses and many times deemed necessary by underwriting to approve your account.


If you currently have an account in good standing, with limited chargeback ratios, we may be able to assist you in getting a new merchant account without a reserve requirement.


Feel free to contact us for assistance with a new high risk merchant account without any reserve.


About The Author
Angela De Steffano
Staff writer at High Risk Merchant Account LLC
Angela is a merchant account specialist and heads the marketing team at HRMA-LLC.